When a US energy company needed reliable level measurement of their oil field chemical feed tanks, they turned to Flowline. To improve well production and equipment longevity, anti-scaling chemicals are injected into each well, so as to minimize the salt content of downhole fluids. With hundreds of wells to supply, level measurement is critical, and the operators had problems with pressure sensors due to corrosion, and another brand of ultrasonic sensors due to condensation on the transducer. For this reason, Flowline suggested the use of our non-contact, reflective ultrasonic sensors that work in condensation.  Here's how.
The ultrasonic sensors provide continuous level data to the SCADA system, which in turn, monitors the tanks, and alarms for replenishment. Flowlineis reliable level measurement.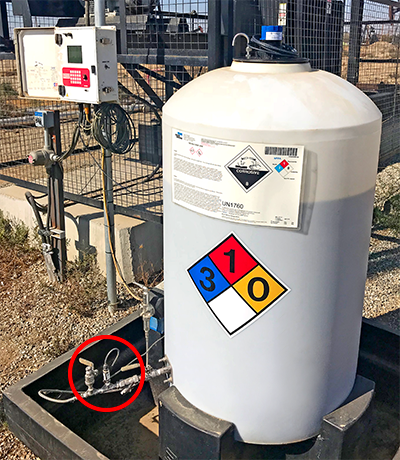 EchoSpan® LU80-84 Ultrasonic Liquid Level Transmitter
The general purpose reflective ultrasonic multi-function level transmitter provides continuous level measurement up to 9.8' (3m) with a 4-20 mA analog signal output and four relays, and is configured via our WebCal software. The non-contact liquid level sensor features our proprietary Reflective Technology™ that delivers reliable level measurement in condensing environments. Each relay can be configured for alarm, automatic fill or empty functions. Select this sensor for small tanks with non-foaming or highly vaporous media such as chemicals, water, wastewater and oil. Typical applications include day tank, IBC or drum, cooling tower, skid or machine, process tank and waste sumps.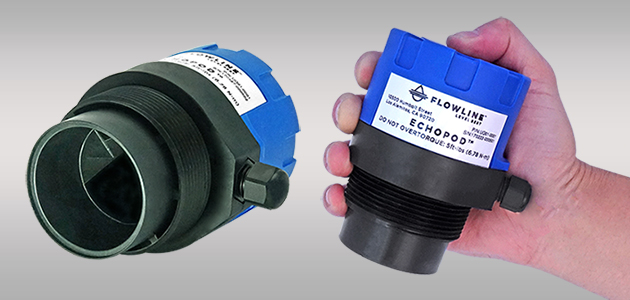 Condensation is the most common variable in liquid level applications. Condensation attenuates the acoustic signal of ultrasonic sensors with horizontal transducers, weakening their signal strength and signal to noise ratio by up to 50%, and substantially reducing their measurement reliability. At the core of Reflective Technology™ is a simple fact. Unlike flat horizontal surfaces, significant water droplets cannot adhere to smooth vertical surfaces. By orienting the transducer vertically, condensation runs off the transducer and does not affect sensor performance. The unimpeded transmit and receive signals are redirected to and from the liquid off a 45º reflector, delivering reliable level measurement. Thanks gravity.
Offered in 1.5m (4.9') and 3m (9.8') measurement ranges
Fail-safe diagnostics with selectable relay and signal outputs
Narrow 2" (5cm) beam width for applications with limited space
Corrosion resistant PVDF transducer and compact PP enclosure
Short 1.5" (3.8cm) dead band maximizes tank filling capacity
Automatic temperature compensation from -40º to 80º C
Four programmable relays with embedded level control logic

1 pump or valve with 3 alarms
2 pumps lead-lag with 2 alarms
2 pumps duplexing with 2 alarms
4 independent switch point alarms