When a Pennsylvania manufacturer of custom blended vaccine and biological ingredients needed reliable level measurement of their process mixing tanks, they turned to Flowline. Here, additives are batched and blended to the exact specifications of their pharmaceutical customers, and reliable non-contact level measurement is fundamental to their success. But these are challenging applications with minimal measurement space, agitation, light surface foam, and ultrasonic signal attenuating condensation. For this reason, Flowline suggested the use of our reflective ultrasonic sensors with narrow 3″ beam widths that are exclusively unaffected by condensation. See how.
The ultrasonic sensors provide continuous level data to the PLC and MES systems, which monitor, control and document production. Flowline is reliable level measurement.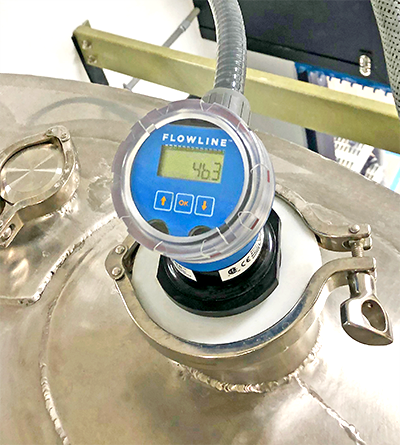 EchoPod® UG06 & UG12 Reflective Ultrasonic Liquid Level Transmitter
The general purpose reflective ultrasonic level transmitter provides continuous level measurement up to 39.3' (12m) with a 4-20 mA analog signal output, and is configured via its integral push button display module or WebCal software. The non-contact liquid level sensor features our proprietary Reflective Technology™ that delivers reliable level measurement in condensing environments. Select this sensor for bulk tanks with non-foaming or highly vaporous media such as chemicals, water, wastewater and oil. Typical applications include bulk storage, neutralization tank, clarifier and waste sumps.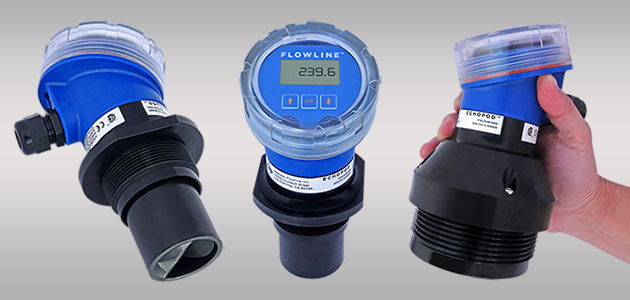 Offered in 6m (19.6') and 12m (39.3') measurement ranges
Reflective Technology™ measures reliably with condensation
Corrosion resistant PVDF transducer with IP68 PP enclosure
Fail-safe diagnostics with selectable signal fail-safe outputs
LCD display indicates level in inches, meters or percent of span
Narrow 3" (7.6cm) beam width for applications with limited space
Windowed enclosure cap provides liquid tight level indication
Configuration via push button display or WebCal software
Automatic temperature compensation from -40º to 80º C. 
Condensation is the most common variable in liquid level applications. Condensation attenuates the acoustic signal of ultrasonic sensors with horizontal transducers, weakening their signal strength and signal to noise ratio by up to 50%, and substantially reducing their measurement reliability. At the core of Reflective Technology™ is a simple fact. Unlike flat horizontal surfaces, significant water droplets cannot adhere to smooth vertical surfaces. By orienting the transducer vertically, condensation runs off the transducer and does not affect sensor performance. The unimpeded transmit and receive signals are redirected to and from the liquid off a 45º reflector, delivering reliable level measurement. Thanks gravity.