When a Houston, TX municipality needed reliable level measurement of their storm lift stations, they turned to Flowline. Storm water flows from streets to pump stations that gather and transfer the run off to nearby treatment plants, ponds or culverts. While trash and debris are screened prior to the lift stations, sediment passes through and collects at the bottom of the sumps. There the operators had ongoing problems with pressure level sensors that would clog and require expensive confined space downhole maintenance. For this reason, Flowline suggested the use of our non-contact pulse radar sensors that provide reliable maintenance free measurement. Here the operators installed the sensor through the sump top, mounted on a metal plate for convenient access.
The pulse radar sensor provides continuous level data to the SCADA, which monitors the sump and controls the two pumps. Flowline is reliable level measurement.
EchoPulse® LR30 Pulse Radar Liquid Level Transmitter
The general purpose 26 GHz. pulse radar level transmitter provides continuous level measurement up to 98.4' (30m) with a 4-20 mA signal output, and is configured via its remote push button display module. The non-contact liquid level sensor is intended for industrial wastewater, municipal storm or sewer lift station, reservoir, river, canal or open channel applications located below or above grade. Select this sensor for challenging process conditions that may include light surface foam or agitation, small trash or plant material, wind, condensation or vapor. Each comes with a 32.8' (10m) cable, mounting bracket and display module. The sensor is designed for bracket mount installation suspended above the liquid level.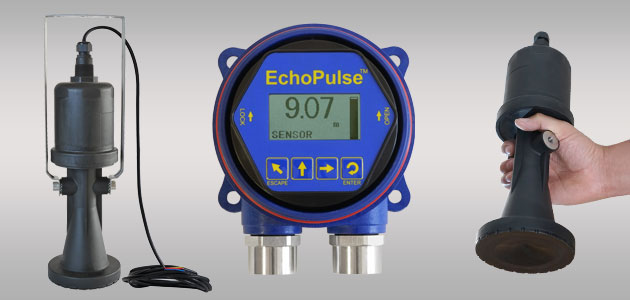 Rugged IP68 sensor enclosure with 304 mounting bracket
Simple configuration via remote push button display module
26 GHz. pulse radar is unaffected by sump process conditions
Wall mounted display with windowed enclosure rated IP67
12" (30cm) dead band enables utilization of the entire sump
LCD displays level in feet or meters with percent of span bar
Optional display mode indicates the echo signal return curve
Self diagnostics with selectable fail-safe signal outputs
Recognition, storage and rejection of false echo signal returns