When Suez North America needed reliable level measurement of their brine wastewater storage tanks, they turned to Flowline. The environmental company provides industrial and municipal water recycling services to 16k sites, and reliable level measurement is core to their business. At this Northeast location, the operators experienced intermittent performance from ultrasonic level sensors when the temperature dipped below freezing. The tanks are heated, and in extreme cold, the resulting steam, vapor and condensate attenuated their acoustic signal. For this reason, Flowline suggested the use of our pulse radar sensors, that are unaffected by such variables.
The pulse radar sensor provides continuous level data to the PLC, which in turn, monitors the tank, and controls the treatment process. Flowline is reliable level measurement.
EchoPulse® LR10 Pulse Radar Liquid Level Transmitter
The general purpose 26 GHz. pulse radar level transmitter provides continuous level measurement up to 32.8' (10m) with a 4-20 mA signal output, and is configured via its integral push button display module. The non-contact liquid level sensor is intended for chemical or water storage applications in above grade metal or reinforced concrete tanks or below grade tanks of any material. Select this sensor for easy process conditions with corrosive media, light agitation, condensation or vapor, and installation in a low-profile tank adapter or flange fitting. Typical applications include chemical bulk storage and tanker trucks.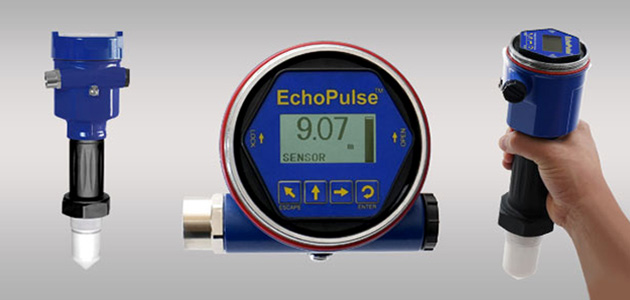 PTFE encapsulated antenna and mount for corrosive media
Simple configuration via integral push button display module
26 GHz. pulse radar is unaffected by vapor or condensation
12" (30cm) dead band enables utilization of the entire tank
LCD displays level in feet or meters with percent of span bar
Optional display mode indicates the echo signal return curve
Fail-safe diagnostics with selectable signal fail-safe outputs
Recognition, storage and rejection of false echo signal returns
Rugged IP67 aluminum enclosure with polycarbonate window