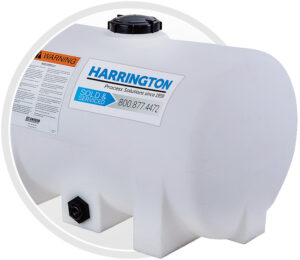 Harrington is your complete tank system supplier
Carbon Steel ● Stainless Steel ● Polyethylene ● Fiberglass ● Special Alloys ​
Harrington tanks are found in many industries including water treatment, chemical manufacturing, power generation, municipal waste treatment, and general industrial manufacturing.
Harrington is your one-stop shop for all of your tank needs
Harrington specializes in a comprehensive range of Chemical Storage Tanks, Chemical Mixing Tanks, and Chemical Process Vessels, catering to diverse industrial needs. Our extensive product lineup includes tanks constructed from various materials, including Carbon Steel, Steel, Polyethylene, and Fiberglass, ensuring that we can meet the specific requirements of your application.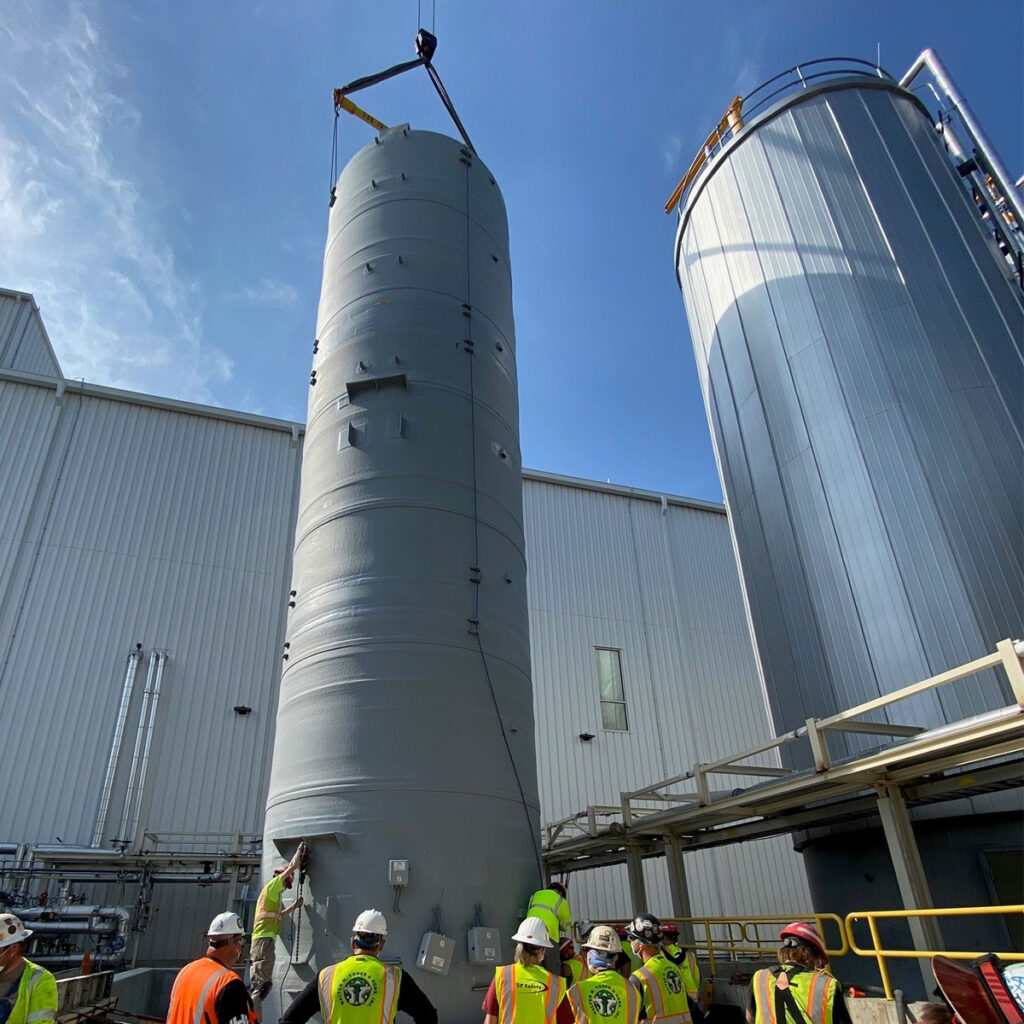 When it comes to tanks, we maintain a wide assortment in stock, and our team can assist you in the selection process. We work with top manufacturers in the industry to provide not only standard tanks but also custom-fabricated tanks. Our experienced tank specialist group is equipped to help you with all aspects of tank-related products, including piping, pumps, instrumentation, ladders, filtration, lined steel piping, and platforms, ensuring a comprehensive and well-integrated solution.
Call our  toll-free number at 1-800-213-4528 and you will be connected to a live person – not a recording. You can also use the contact form below for any questions regarding our tank solutions.
Harrington High-Quality Tanks for Every Application: Plastic, Fiberglass, Carbon, and Steel Solutions
At Harrington, we understand that each application may present unique challenges, which is why we strive to offer solutions for even the most demanding situations. Whether your project requires a plastic, fiberglass, or steel tank, you can trust us to deliver high-quality and reliable solutions tailored to your needs. 
For expert assistance and guidance, our technically trained specialists are just a phone call away at 1-800-213-4528. Alternatively, you can use the contact form on our website to reach out to us with any questions or inquiries regarding our tank products. With Harrington as your partner, you can be confident in finding the ideal tank solution for your industrial applications.
Offering Tanks to Handle a Wide Variety of Chemicals and Needs

Harrington provides tanks to handle hundreds of chemicals including Sodium Hypochlorite, Sulfuric Acid, Sodium Hydroxide, Hydrochloric Acid, Potassium Hydroxide, and many more others. The tanks are constructed to the latest industrial standards including ASTM, API, UL, ASME, and AWWA.
Plastic Tanks come in several options for manufacturing.  If you need a high density polyethylene (HDLPE), cross-linked high density (XLPE), NSF 61 or FDA tank, we can help.  We also offer a wide selection double containment tanks, totes, and smaller storage options.
With fiberglass tanks, we offer options for chemical, brinemaker, water, food processing, bleach, fire water, DI water, and acid tanks.  They are custom made for your application and are made to ASME or RTP1 standards.
When it comes to steel tanks, Harrington provides options for carbon and stainless steel.  These are primarily used for water or food processing applications.
Most of our tanks also have the option for insulation and heat tracing systems to be added if needed. Harrington also provides mixers, platforms, and ladders in both metals and fiberglass, and a full range of accessory items. Harrington's mission is to provide customers with the best possible solution — taking into account, service life, budget, and application!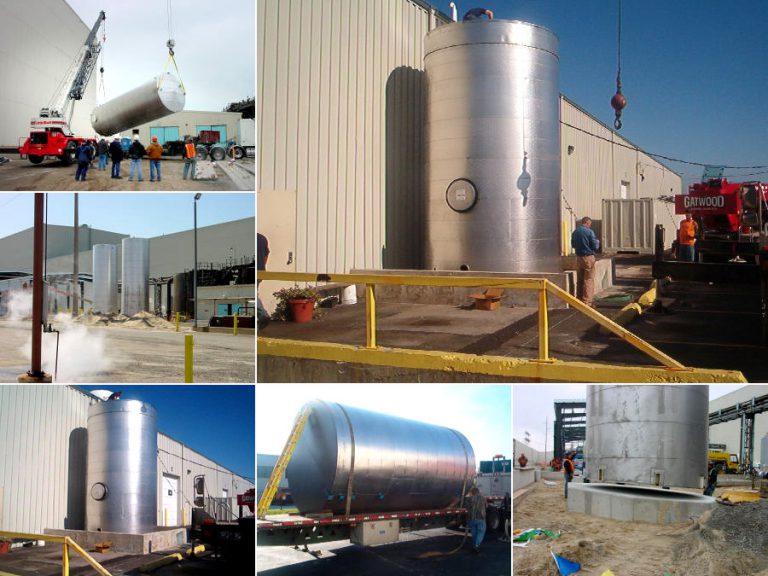 Carbon steel tanks can withstand extremely high and low temperatures without cracking, melting, or other damage. Tanks constructed from carbon steel can be lined or painted to improve their chemical and water resistance, allowing them to hold most types of fluid or gas. Low-cost materials, flexibility, and reliable service make carbon steel tanks a good all-around choice.
Flat, Sloped, Dished, or Cone Bottoms
Shop Built and Field Erected (Bolted)
Vertical and Horizontal Configurations
Single and Double Wall
API, ASME, UL, and AWWA Standards
Heating/Heat Transfer Systems
Shop Applied Insulation
Ladders, Platforms, Mixer Supports
Unlimited capacities, configurations, and dimensions
Stainless steel tanks can be used for a range of applications, including the food industry, agricultural, and chemical storage purposes. Depending on the purpose of the stainless steel tank, it can have a flat bottom, cone bottom, slope bottom or dish bottom.
Flat, Sloped, Dished, or Cone Bottoms

Shop Built and Field Erected (Bolted)

Vertical and Horizontal Configurations

Single and Double Wall

API, ASME, UL, and FDA Standards

Heating/Heat Transfer Surfaces

Shop Applied Insulation

Industrial and Sanitary Finishes and Fittings

Reactors and Pressure Vessels

Mixers, including scrape surface agitators

Unlimited capacities and configurations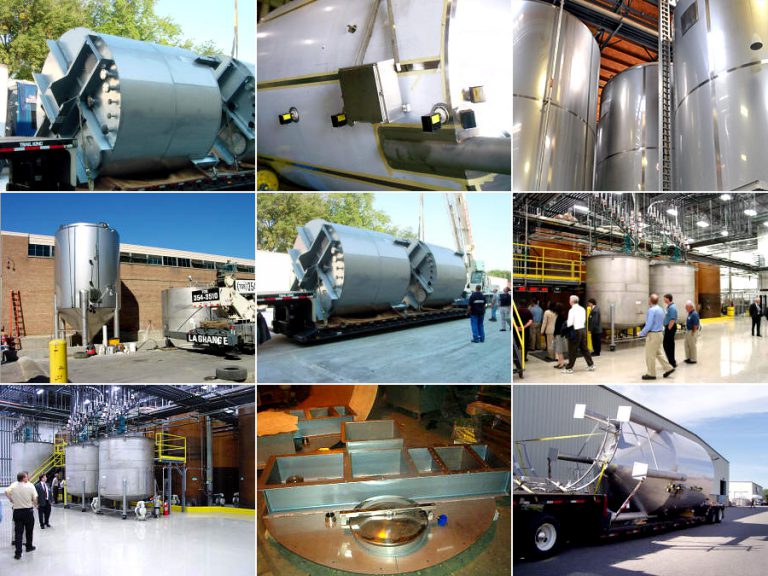 Polyethylene Storage Tanks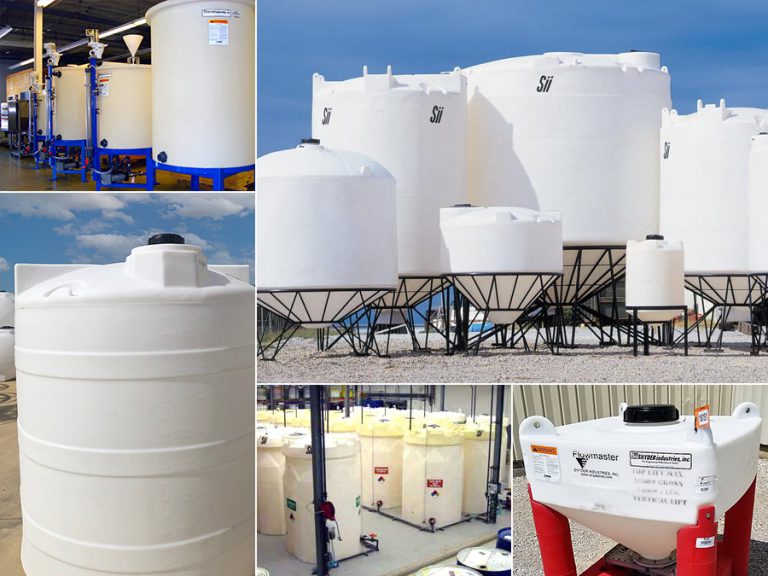 Polyethylene Storage Tanks are rust and corrosion-resistant tanks most frequently used for the bulk storage of Water, Liquid Fertilizer, Liquid Feed, Waste Vegetable Oil, Agricultural Chemicals, Industrial Chemicals, Diesel Exhaust Fluid (DEF), Reverse Osmosis Systems, Car Wash Tanks. Polyethylene storage tanks are rotationally molded from high-density linear polyethylene (HDPE) or high-density cross-linked polyethylene (XLPE) and have increased structural integrity and durability against impact, puncture, or tears.
Flat or Cone Bottom

Vertical/Horizontal/Custom Fabricated

Single and Double Wall

Linear & Cross Linked Resins

Ladders, Heat Systems, Insulation, Fill Pipes and More

Capacities 20 to 16500 Gallons
Fiberglass tanks are actually fiberglass reinforced plastic (FRP) — that is, they are plastic tanks that have been reinforced with fiberglass, similar to the way that rebar strengthens concrete. Fiberglass tanks are ideal storage solutions for outdoor rainwater harvesting, water storage, fire protection, oil field storage, liquid fertilizer, water treatment, irrigation water storage, and much more.
Flat, Sloped, Dish, or Cone Bottom Configurations

Vertical/Horizontal/Custom Fabricated

Single and Double Wall

All resins/corrosion barriers

Ladders, Heat Systems, Insulation, Mixer Supports, Top Handrails and More

Shop built to 50K+ Gallons

Field Erected to 200K+ Gallons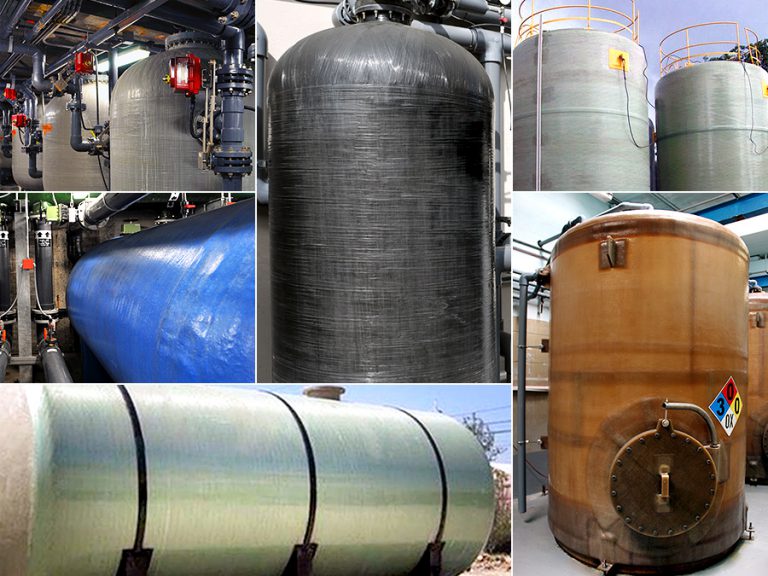 Field erected tanks are custom-built tanks in which the various components are transported to the project site and then assembled on location. Their scale makes it impossible to be put together inside a shop facility. Field erected tanks are available in almost unlimited sizes with capacities from thousands to millions of gallons.
Field erected welded steel tanks are long-lasting; built to withstand temperature, harsh weather, and harsh chemicals. Depending on the purpose, a field erected welded steel tank can be built out of carbon steel, stainless steel or a duplex material. Versatility has made field erected tanks the popular solution for industrial and municipal needs such as potable water storage, wastewater treatment, chemical and fuel storage including numerous uses in manufacturing, processing plants, military bases, airports and other facilities.
Any Diameter; Any Height

Coated or Bare
Glass-Fused to Steel
Embedded Ring in Concrete
Cone Bottom; Sloped Bottom or Flat Bottom
Open Top or Cone Top
Any Diameter; Any Height

T-304 or T-316
Embedded Ring in Concrete
Cone Bottom; Sloped Bottom or Flat Bottom
Open Top or Cone Top
16' diameter; 20' diameter; 25' diameter; 30' diameter

Flat Bottom; Sloped Bottom
Open Top; Domed Top
Oblated Rings for shell sections (efficient shipping costs)
Prolated once on jobsite
Buy your next tank product from Harrington and experience the difference.
No matter which type of tank you need, all the different material style tanks can come in an assortment of sizes and configurations.  Whether you need a vertical, horizontal, cone bottom with a stand, or a rectangular tank, we can provide you with options to fit your application.  FRP, Steel, and Plastic tanks all have their strengths, and our team of Tank Subject Matter Experts, along with our experienced sales teams, can help you make the right selection at the most economical price.
Can't find what you're looking for?
Call our toll-free number at 1-800-213-4528 or use the contact form above for any questions regarding our tank products and tank accessories.