Did you know that Harrington carries an array of equipment for rent?
At Harrington, we've placed substantial investments in our rental tool department, aiming to provide our customers with cutting-edge equipment designed to meet a variety of project needs. This means you can count on us for the latest equipment, whether it's welders for precise joining, pipe pullers for efficient installation, injection guns for specialized tasks, or a wide range of other tools and machinery. 
Harrington recognizes the critical role of dependable equipment on the worksite. That's why we prioritize maintaining our rental tools at the utmost standards. Our rental department is dedicated to upholding the quality and functionality of our rental equipment, achieved through routine maintenance and repairs.
We want you to have the confidence that when you rent equipment from Harrington, it's in excellent working condition, ensuring a smooth and productive experience for your project. If you're in need of equipment to support your project, please reach out to us, and our team will be more than happy to assist you in selecting the right tools for the job, ensuring that your project runs efficiently and successfully.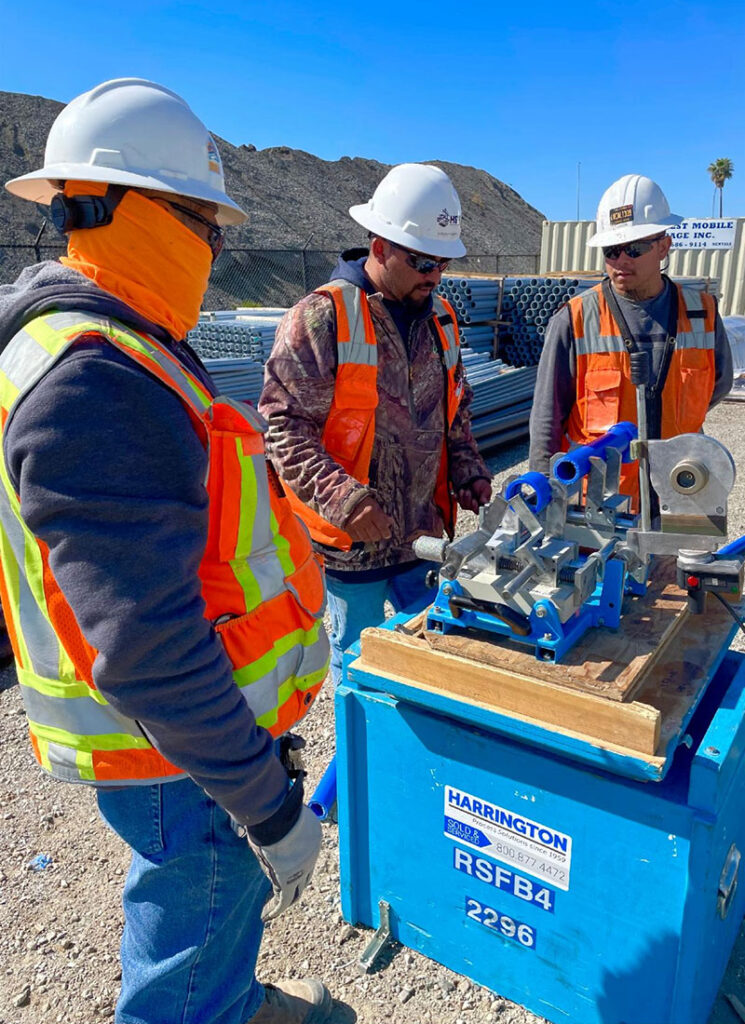 SP Series IR Butt Welding Machines
One notable addition to Harrington's tool rental offerings is the Agru (Asahi/America) SP250 & SP100 IR Butt Welding Machines. These specialized tools are designed for thermoplastic welding of high-density polyethylene (HDPE) pipes and fittings, ensuring a strong and continuous seam for leak-proof and durable pipeline systems.
Whether you require precise and reliable welding for high-tech semiconductor equipment, need to create robust industrial pipelines, or demand secure and hygienic solutions for the food and pharmaceutical sectors, our rental tools are engineered to deliver consistent and high-quality welds, making them a dependable choice for a wide range of applications, ensuring that your project proceeds smoothly and efficiently. These machines are designed to provide consistent and high-quality welds, ensuring their reliability for a diverse range of applications.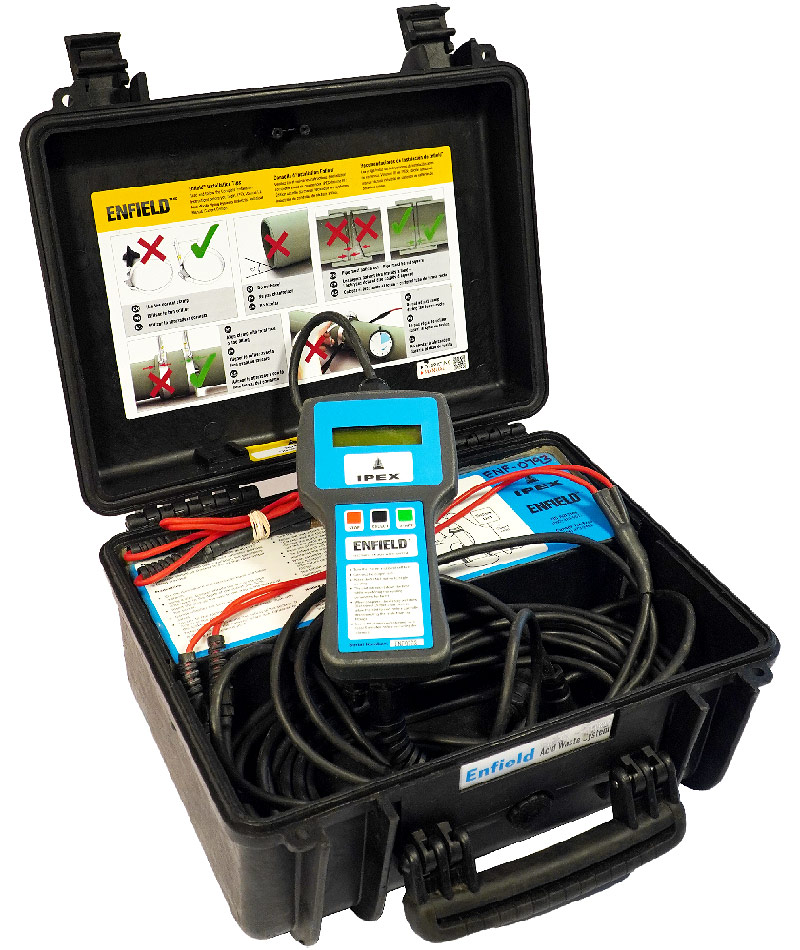 Harrington offers IPEX's electrofusion joint machine for rent, perfectly complementing IPEX's Enfield™ acid waste piping system. Enfield™ electrofusion-joint technology stands as the preferred choice for a wide range of chemical waste applications within non-return air plenums. Its hallmark lies in its simplicity and reliability, ensuring exceptional dependability in acid waste scenarios.
Enfield™ electrofusion fittings boast a unique design, featuring an integrated resistance wire within the socket. The jointing process revolves around energizing this resistance, delivering a robust and secure connection. Both the Enfield™ pipe and fittings are meticulously crafted from flame retardant Polypropylene (FRPP), ensuring enhanced safety in handling acid waste materials. 
Enfield™ FRPP and NFRPP Pipe and fittings conform rigorously to the ASTM F1412 Standard specification for Polyolefin pipe and fittings designed for corrosive waste drainage systems. The material used in manufacturing these components aligns seamlessly with the stringent material requirements outlined in the ASTM D4101 Standard Specification for polypropylene for Injection and Extrusion materials.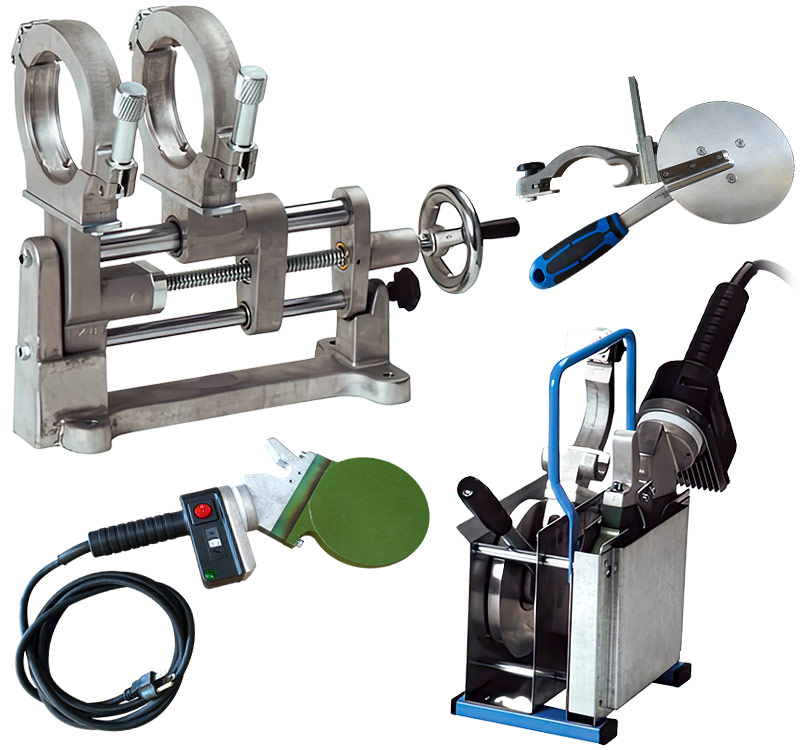 Miniplast® Butt-Fusion Tool
Harrington proudly provides the option to rent Asahi/America's Miniplast® butt-fusion tool, catering to the needs of professionals working in environments where space is limited. This compact and lightweight manual welding tool proves itself as a versatile asset, capable of seamlessly handling pipes spanning from 20mm to 110mm (1/2″ – 4″) in size, thus accommodating a variety of materials, including PE, PP, and PVDF pipes and fittings.
What sets the Miniplast® apart is its swift open/close mechanism, which streamlines the butt fusion process on pipes, ensuring a reliable and efficient bond. Whether you're engaged in plumbing, construction, or industrial projects, the Miniplast® stands as a practical and user-friendly solution for achieving precise and secure welds, enhancing your overall welding capabilities.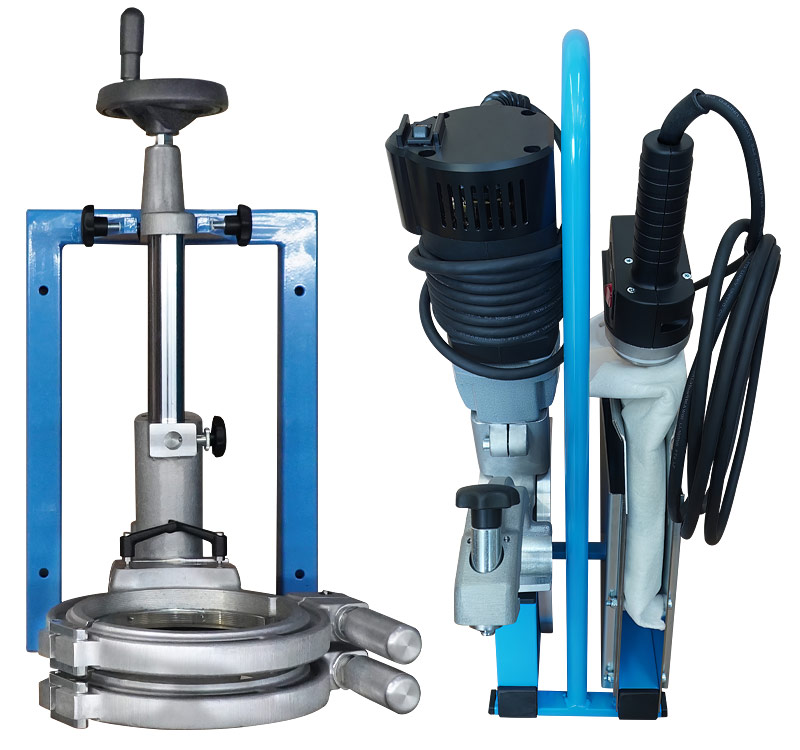 Maxiplast® Butt-Fusion Tool
Harrington provides the option to rent Asahi/America's Maxiplast®, a versatile and compact manual butt fusion tool meticulously crafted to meet diverse welding requirements. Tailored for welding in restricted spaces or on a workbench, this lightweight tool comes equipped with an electric planer and boasts compatibility with pipe sizes spanning from 50mm to 160mm (1-1/2″ – 6″).
The Maxiplast® stands out as an exceptional welding machine for the heating element butt welding of PE, PP, and PVDF pipes, rendering it suitable for a range of settings, including workshops, construction sites, and installation tasks. Its sturdy construction features a solid base with precision ball-bearing guides, a spindle, and power input cushioned by springs, guaranteeing swift movements for efficient change-overs and a gradual pressure buildup. To enhance convenience, the tool, together with its various components, is thoughtfully housed in a custom crate for effortless transportation and storage.


Don't see the tool you're looking for?
If you require equipment to support your project, don't hesitate to contact Harrington. Our team of experts is ready to assist you in choosing the appropriate tools for your specific needs. Whether you need the latest equipment or advice on tool selection, we're here to ensure that your project proceeds smoothly and achieves success.
Contact Harrington and experience the difference.
We have the tools, products, and experts for all your process solutions requirements.
Call our toll-free number at 1-800-213-4528  or use our contact form for any questions regarding our products.