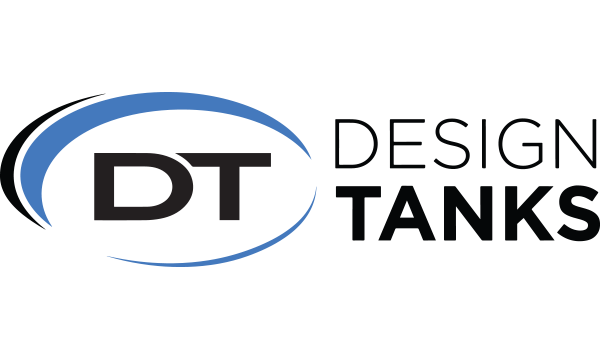 Design Tanks builds fiberglass storage tanks in many shapes and sizes—from two to 14 feet in diameter and holding from 50 to 50,000 gallons.
Design Tanks strives to be the nation-wide leader in fiberglass tank manufacturing.
Design Tanks creates the highest quality fiberglass tanks in the industry through modern design, engineering, and manufacturing processes while bringing outstanding value to customers. Design Tanks creates premier fiberglass storage tanks coming in many shapes and sizes — ranging from two to 14 feet in diameter and holding from 50 to 50,000 gallons, with a variety of product options. 
Watch the video below explaining our tank building process.
Some of the industries that Design Tanks serve include the following:
Agriculture
Industrial Chemical
Oil and Gas
Food and Beverage
Water and Wastewater
Air Pollution Control
Paints, Coatings, and Dyes
Energy, Pulp, and Paper
Pharmaceutical
Mining
The Harrington Difference
Providing over 60 years of exceptional service
Harrington is a leading Design Tanks distributor. Call our toll-free number at 1-800-213-4528 and you will be connected to a live person – not a recording. You can also use the contact form below for any questions regarding our full line of Design Tanks products.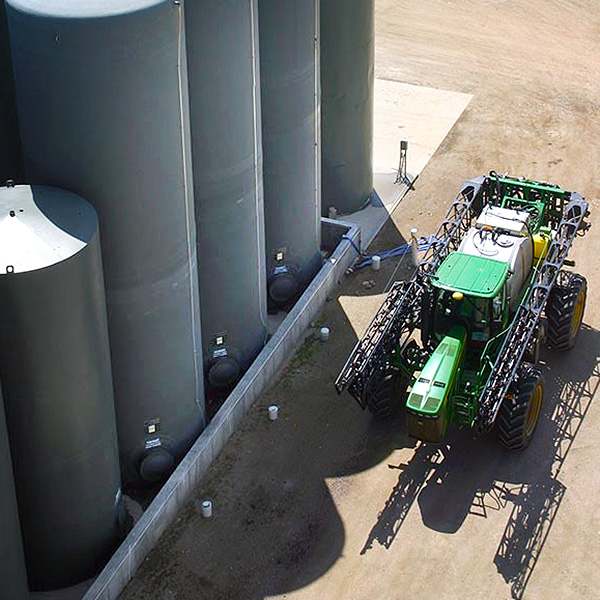 Design Tanks builds low-maintenance, durable fiberglass agriculture tanks that are built to hold bulk fertilizers, soil fumigants, herbicides, and even water while providing long-term performance and maximum resistance against corrosion and chemical attack. Vinyl ester liners can be added for enhanced protection against more aggressive fertilizers. The standard agriculture tank design provides easy access to the tank interior for inspection and maintenance.
Available in a range of sizes and colors, the Design Tanks agriculture models give a tank life of over 20 years with no external maintenance expense because of their integral pigmented exterior. In addition, easy-to-install agriculture tanks are 75% lighter than steel while providing a higher strength-to-weight ratio, and will not conduct electricity.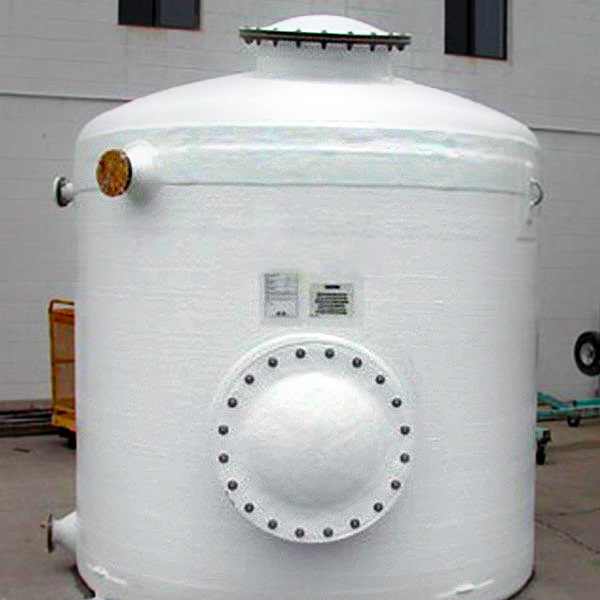 Industrial Chemical Tanks
Fiberglass-reinforced plastic tanks built by Design Tanks meet storage needs for industrial chemicals, concentrations, and temperatures; specifically tailored resins make the interior corrosion barrier to meet the service environment. Able to contain the harshest contents, our chemical tanks are made to meet all legal regulations for storing chemicals such as bleach, acid, sodium chloride, ethylene glycol, and caustic soda.
Chemical tanks are corrosion resistant, have a maintenance-free exterior, and are made to protect the environment. Whether the industrial chemical tank is storing mild or aggressive chemicals, Design Tanks offers numerous testing procedures to meet stringent industrial requirements.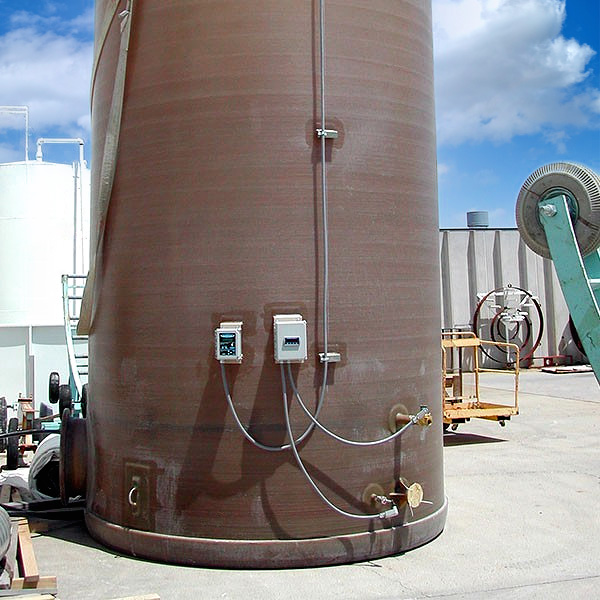 Custom-built tanks are engineered to store anything from water to highly corrosive chemicals for food and beverage manufacturers around the world. Design Tanks adaptable storage tanks can serve customers from breweries or wineries to mass dairy production.
Design Tanks food and beverage tanks are used to accomplish specific functions like mixing, saturating, separating, or brining product.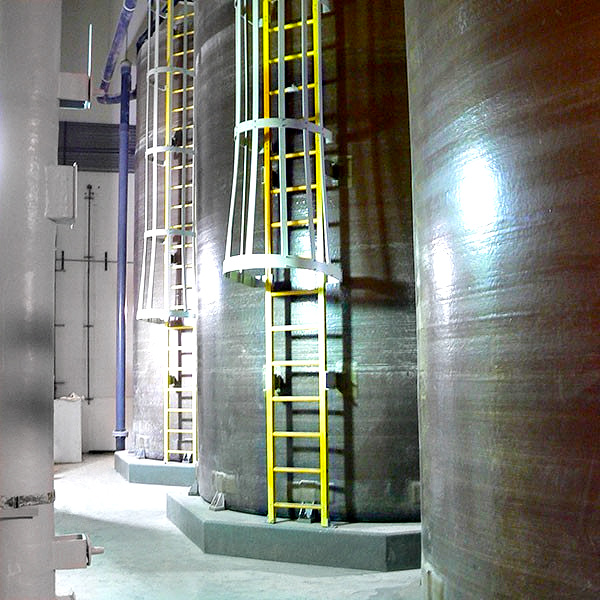 From city level to state facilities, Design Tanks engineers storage solutions for wastewater treatment facilities, air pollution control systems, coal-burning electric plants, and chemical storage facilities. Municipal and engineering tanks are custom fabricated to meet the exact specifications you need, from 50 to 50,000 gallons. 
Tank Designs are built to industry standards such as ASTM D3299 for chop-hoop filament wound tanks, and ASTM D4097 for centrifugal cast molded tanks. Fiberglass is a cost-effective material for your next vessel fabrication, and its benefits include corrosion resistance, reduced weight, and elevated temperature tolerance.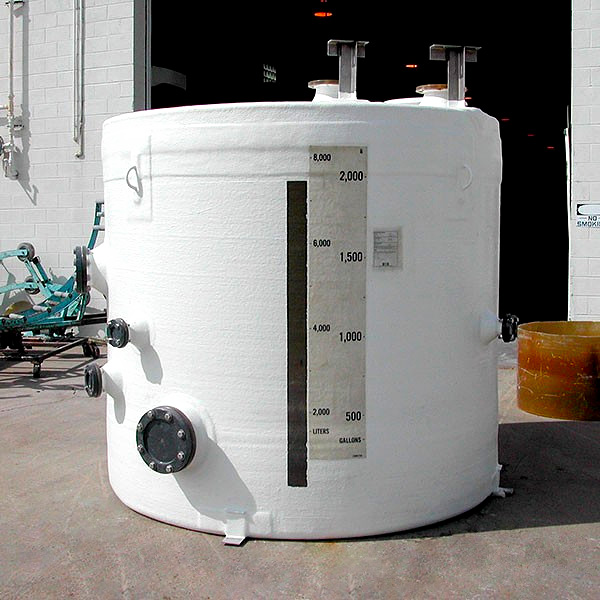 Design Tanks engineers customized tanks for the exact needs of water treatment facilities for municipalities and private businesses. This includes tailor specific resin selection to ensure correct tank preparation for chemicals in wastewater treatment processes.
Design Tanks has water and wastewater tanks at work in various cities and municipalities in the U.S. and beyond from portable water tanks to underground tanks. Additionally, Design Tanks is NSF/ANSI 61 certified and able to provide all of your potable water needs.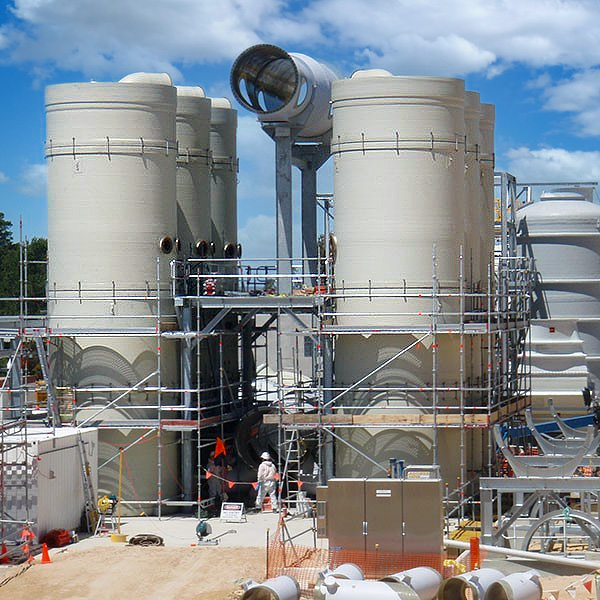 Designed to meet air pollution control system requirements, Design Tanks manufactures fiberglass-reinforced plastic tanks are flexible, lightweight, and have a high strength-to-weight ratio. Superior air scrubber tanks help to neutralize and remove harmful substances emitted from chemical storage. Choose from a wide variety of tank colors and sizes to fit your air control needs and your project's specifications.
Design Tanks also builds odor control tanks for reducing foul smelling emissions; and carbon vessels designed to accommodate carbon media used in the removal of contaminants in both the liquid and vapor phases. If you need a tank solution to control air pollution, Design Tanks has your answer.
Buy your next Design Tanks product from Harrington and experience the difference.
Can't find what you're looking for?
Call our toll-free number at 1-800-213-4528 and you will be connected to a live person – not a recording. You can also use the contact form above for any questions regarding Design Tanks products.